Contact Mustang Museum of America
We invite you to contact Mustang Museum of America by phone or send us a message via the Contact Form below and plan a visit soon to one of the largest Ford Mustang Museums in the US with over 100 Mustangs of almost every model and generation, special models, as well as the largest collection of Highway Patrol Mustangs and other rare SSP Mustangs and plenty of Ford Mustang Memorabilia.
We are centrally located just minutes from Birmingham, Anniston and Gadsden in downtown Odenville, Alabama just 1/2 mile south of the red light!
Mustang Museum of America
We're Located at:
49 Forman Farm Road
Odenville, Alabama 35120
Our Mailing Address:
P. O. Box 294
Odenville, Alabama 35120
T: 205.773.9170
C: 205.773.9170
Bob Powell, Managing Director
Carol Powell, Membership Chairman
Gary Powell, Manager
Jonathon Powell, Assistant Manager
Ready to find out more? Visit MMA Today!  It's worth a visit to see this dynamic Mustang collection!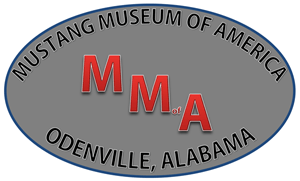 Mustang Museum of America
49 Forman Farm Road
P. O. Box 294
Odenville, Alabama 35120
Hours:
Friday through Sunday
9:00 am - 5:00 pm
& Available by
Special Appointment
From I-59, Exit 165, 9.1 miles     |     From I-20, Exit 144, 9.8 miles     |     From I-20, Exit 158, 10.2 miles
Minutes from Barber Motorsports Park and Talladega Speedway