Make a Gift or Pledge to Mustang Museum of America
Mustang enthusiasts interested in preserving the history of America's most famous Pony Car can support the Museum with a donation, gift or a pledge of future gift. To support day-to-day operations, provide a first-class display of vehicles and continue to grow, the Museum will depend on support of its members and other Mustang enthusiasts. Therefore, contributions from individuals, businesses and other organizations are essential to insure the future financial stability of the Museum.
The Museum welcomes the opportunity to discuss anyone's interest in making a donation, gift or pledge of a future gift. Some alternatives of donations or gifts are:
One time donation
Annual donation
Donation of stock or other securities
Pledge for future donation
Bequest by will upon death
Memorabilia and collectibles
Personal Property
Vehicle donation
If an individual, business, club or other organization, is interested in making a tax deductible, charitable gift or pledge commitment to the Museum, please print and complete the Gift/Pledge document from the link below or contact the Museum's Managing Director.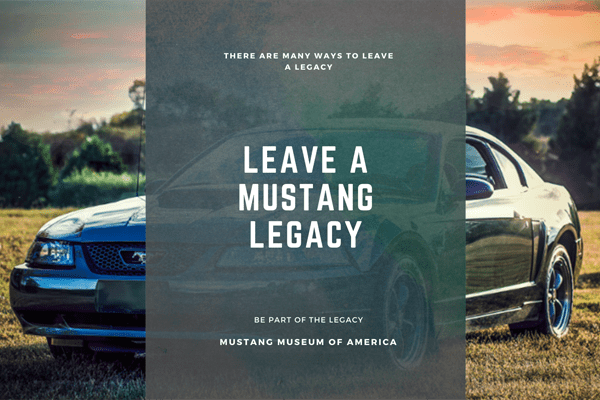 Individuals can include the Mustang Museum of America in their estate planning. If you are interested in this opportunity, please discuss with the Museum's Managing Director. The Museum encourages consultation with a tax professional, Certified Public Accountant, investment professional and/or an attorney prior to decisions regarding gifts as a component of estate planning.
Gifts of Memorabilia or Mustang-related Collectibles
During its 50+ year history, there have been numerous Mustang memorabilia and collectibles produced and sold to the public. These Mustang-related items add to historic Mustang legend and have always been desired by Mustang enthusiasts.
The Museum is always interested in obtaining museum-quality Mustang memorabilia and Mustang-related collectibles. If you have items that you would consider donating to the Museum, please contact the Museum's Managing Director.
The Museum will consider donations of personal property. Depending on the item, the Museum, at its discretion, may display the property, if it is Mustang related and museum quality, or sell the property with the proceeds going to the Museum. Please contact the Museum's Managing Director.
The Museum's Managing Director can be contacted by email at mustangmuseum@gmail.com
All gifts to the Museum are non-refundable. Gifts can be anonymous at the request of the donor.
Make a donation via PayPal
Make a Gift or Pledge to Mustang Museum of America
Ready to find out more? Visit MMA Today!
It's worth a visit to see this dynamic Mustang collection.
Mustang Museum of America
49 Forman Farm Road
P. O. Box 294
Odenville, Alabama 35120
Hours:
Friday through Sunday
9:00 am - 5:00 pm
& Available by
Special Appointment
From I-59, Exit 165, 9.1 miles     |     From I-20, Exit 144, 9.8 miles     |     From I-20, Exit 158, 10.2 miles
Minutes from Barber Motorsports Park and Talladega Speedway