Thanks to the generous donation of a Museum supporter, the Mustang Museum of America now has on display an original 1967 Ford engine that Ford build for training purposes. We were not able to find any information on a specific Ford engine training program other than the riveted tag on this engine stating "Donated for Advancement of Technical Education".
However, it seems that sometime in the mid-60's, Ford built this new 6 cylinder, 200 cu. in. engine with a custom-made engine stand including all accessories needed to be a running engine display. The engine display includes radiator, battery, voltage regulator, small gas tank, typical engine gauges (oil pressure, water temperature, battery amperage) and on/off/ignition switch. The display also has a throttle cable and manual choke cable. This particular engine also includes a pollution control system which were only being put on a few engines in the sixties, primarily on vehicles sold in California.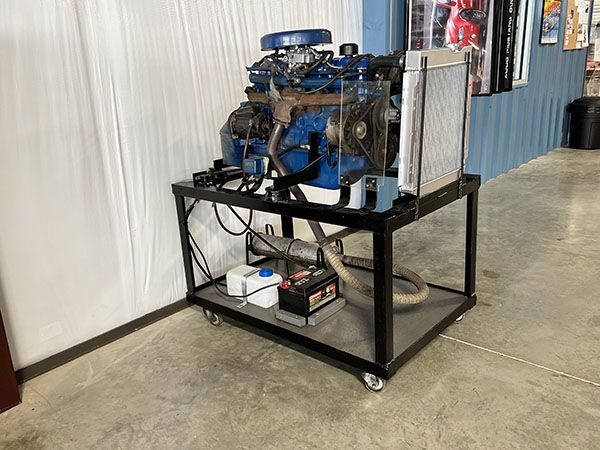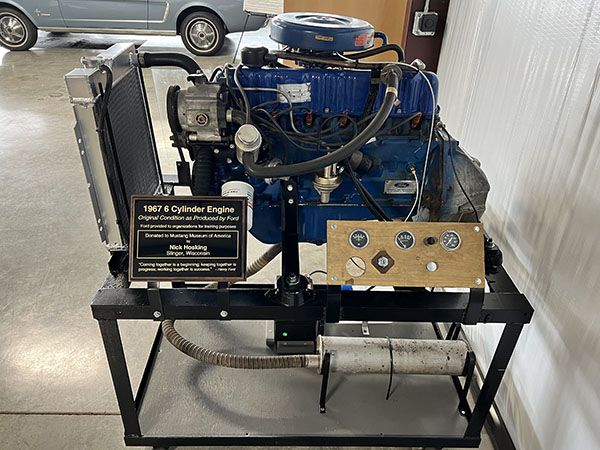 Our guess is this engine was provided to technical/vocational schools to train students on the basics of how an engine operated. The engine was not just a static display – it was actually started up and run back in the day!
If anyone has any information or first-hand knowledge of this engine or the Ford engine training program from the sixties, the Mustang Museum of America would love to hear your story. Please contact us at 205-773-9170 or mustangmuseum@gmail.com.
Come by the Mustang Museum of America in Odenville, Alabama to see this unique part of Ford history. The Museum currently has 113 Mustangs on display, from 1964-1/2 to 2015 including many special models and also has the largest collection of SSP/Police Mustangs in the United States.